Resetting the printer's waste ink counter can sometimes face the problem for a different reasons. For example, buttons on older devices begin to jam or stop working altogether, outdated software crashes, various components and mechanisms fail, and other problems appear.
All this can prevent to put printer in Service Mode. If something prevents the absorber from being reset, the Service Tool program will display errors – 002, 005, 006, 009 etc.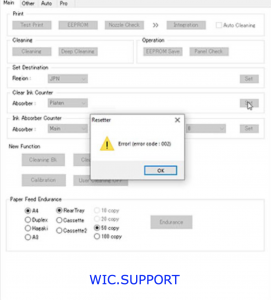 Here is explanations of some error codes:
Error code 002.
This error mainly appears due to the fact that the version of Service Tool used does not support this printer model. It can be solved by replacing the program with a suitable variation. Today you can buy Service Tool v5510, but this does not mean that it is suitable for all Canon MFPs (for example, for old printer models it is better to use more old Service Tool version).
Error code 005.
The most common error. Appears when the software cannot recognize the printing device. The reasons can be: the printer was not put into service mode, the printer main board is broken, the software is faulty, etc.
You can try to fix the problem by restarting your PC and printer and switching the USB port or replacing the USB cable that syncs the two products.
Error code 006.
This error usually indicates that the printer has not entered service mode. Try restarting the printer, rebooting the PC and performing the printer waste ink counters reset procedure once more time. Also You can try to change the USB connection port and cable.
Error code 009.
This error is also common problem. It is caused by the fact that there is some other fault in the printer, in addition to the overflowing Canon Waste ink Counter. To determine the error, count the number of times the device lights blink. The most common failure is the absence or inoperability of the cartridge. Try resetting the ink levels counter first.
Until you fix the problem, the Service Tool will not be able to reset Waste Ink Counters.