WIC Utility supports firmware downgrade for all supported (supported models list) Epson Inkjet printers.
You can first check if firmware downgrade is available for Your printer model:
Go to Supported Models Tab, find Your printer model and put mouse to letter [I] – You will see new window with list of options available with Yours printer model. See at the bottom of the page – Change Firmware – if You can see it – that means You can make firmware operation.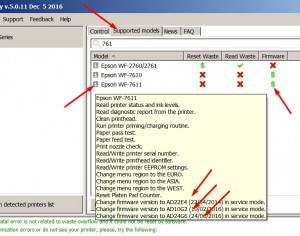 Now You have to check your current firmware version and compare with available in WIC.
If Your current firmware version is older then available in WIC – You dont need to make firmware downgrade because it will be not downgrade but update.
Firmware downgrade can be performed in WIC in 2 ways – in Service Mode and in Regular Mode – You can see this information when checking available firmware version – see picture above.
Video tutorial how to make firmware downgrade in Service Mode:
Video tutorial how to make firmware downgrade in Regular Mode:
NOTE: To make firmware downgrade in regular mode – all ink cartridges must be recognized by printer. This means if You use CISS or Non original Ink Cartridges and have unrecognizing problem – You have to install Original Epson cartridges (not finished) for making firmware downgrade. After firmware downgrade is complete – You can install CISS or other non original ink cartridges!
If You have questions – please contact us by Live Help Chat or in our Forums –
http://www.2manuals.com/forum/index.php?/forum/4-wic-reset-utility/