How much ink does your printer waste?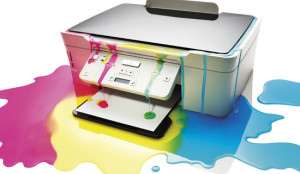 If you only use your printer occasionally, you could be using more than six times as much ink as you would printing the same number of pages in one go.
Ink is wasted when a printer runs a cleaning cycle, often as it is switched on, which means that less of the ink you buy ends up on the page.
The result is that you'll need to replace your ink cartridges more frequently, paying high prices for ink that you'll never even get to use.
Which? tests uncover the scale of ink waste
Our tests have found a dramatic difference between the amount of ink your printer gets through when it's printing occasionally over a period of weeks, either switched off in between or left in standby, and when it's printing the same amount all in one go.
The results below show just some of the shocking differences in ink use we've encountered in our lab tests. The figures show the difference between printing 50 sheets of colour graphics continuously (all in one go) versus occasionally (over a period of weeks, with the printer either switched off or left on in between prints).
Prices are based on typical cartridge costs for each brand.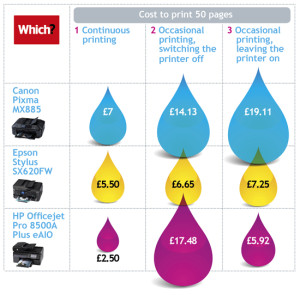 As the graphic above shows, there are huge differences in the amount of ink you'll get through depending on whether you're a frequent or occasional printer, and whether you leave your printer off or on between jobs.
How can you save on your printer ink?
Nobody wants to store up all their printing to do it in one go just because it's more efficient. So what's the best alternative – leaving a printer on or off between prints?
Our tests found that it's not always the case that leaving a printer in standby is a better option than switching it off altogether.
The HP printer we tested wasted less ink if you didn't switch it off between prints. The Canon and Epson printers wasted less ink when we turned the printers off in between, instead of leaving them in standby.
If your printer sounds like it's cleaning its heads every time you turn it on from cold, it may be cheaper to leave it switched on permanently and let it power down itself into sleep mode.
How much energy is wasted leaving a printer on?
Leaving any device on around the clock may seem like a waste of electricity, which is why we measure the energy use of printers in our lab.
If you left the HP Officejet Pro 8500a Plus eAIO in its sleep mode after printing, rather than turning it fully off, it would cost you roughly £2.54 a year in electricity. This can work out cheaper than having the printer waste ink when you switch the printer on, given the cost of buying new cartridges.
This article has been published at Which.co.uk Blog
by Katie Waller, Technology Researcher
20/11/2012