This error is determined in the Epson Service Manual as FATAL ERROR. It means the printer can't finish his selftest. When you turn the power ON the printer begin to check its all systems. If for some reason it cant finish this selftest – the printer gives error message. It means you have to fix the problem first. If the selftest is finished the printer is ready to print.
Solution
There is no actual reset for a "Fatal Error Service Condition", because its usually caused by either a failing hardware/part problem, or a related servicing and or cleaning of those related parts.
But You can try to solve it by Your hands.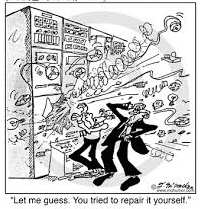 Actualy Fatal Error can be caused by a lot of problems:
– bad lubricate of the carriage guide shaft
– dirty Encoder Strip or Paper Feed Encoder Wheel
– dirty paper feed sensors
– broken ribbon electrical cable going to carriage
– cleaning fluid or inks flowed down the cables into the plug where the ribbon cables enter the print head causing an electrical short and bizzare error messages
– burned electrical fuse on printer main board
– hardware/part related failure
– and many other reasons can give Fatall Error message
Make sure the transportation lock has been removed.
If the CD tray is in the eject position, make sure you press the CD Tray button to retract the tray to the storage position. Never push or pull the CD tray into position.
Turn the Artisan OFF and make sure paper is not jammed inside the unit.
If you have printer with CISS installed make sure the printer carriage can go left and right easy.
Make sure the upper scanner part of printer is closed tightly. Nothing prevents to close it tightly.
The common things You have to do first is to check the Fatal Error number and its description that will point You where should You search the reason. Good site for Fatal Errors codes – FatalErrors.info.
Usualy You have to remove the covers from the printer, remove the print head, cleane the connector thoroughly, clean all sensors, reassemble the printer.