Through WIC Reset Utility Live Support we get contacted by Epson SC-P600 users from all over the world. Brazil, USA, Canada, Asia, Africa, Russia, China, Italy, Germany and on and on.
This users are facing problems while modifying SC-P600 firmware to chipless mode. So we want here to share following step-by-step manual how to modify Epson SC-P600 firmware to make this printer chipless.

No Inks Firmware is available for SC-P600 printer model. You can check it by yourself before making firmware changes:
Run WIC Utility -> go to Supported Models Tab -> Enter in Search Field Your model -> Put mouse on letter [I] at the left of printer model: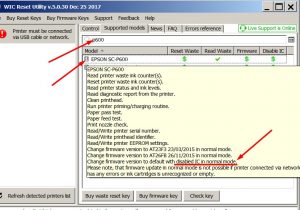 Now You are sure Chipless Firmware is available for SC-P600 model and this can be done in regular (normal, default) mode – it means You dont need to put printer in Service Mode before firmware changing.
Note: Ink cartridges are NOT required to be installed while firmware process. That means you can perform firmware operation without ink cartridges installed or installed any cartridges – full or finished, original or third party – doesnt mind.
Click on Disable Ink Cartridges Button.
Warning: Dont use Firmware Update option. You have to use Disable Cartridges button!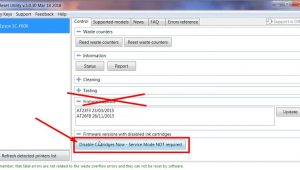 To make firmware operations You have to use Firmware Key

After entering the Firmware Key – wait until all operations are finished and printer will restart with New Chipless Firmware.
You can uninstall now chips from ink cartridges or just forget them. They are disabled now.
Here You can watch step-by-step Video Tutorial of firmware process:

If You have any questions or suggestions – welcome to our
discussion board SC-P600 Chipless thread
.
.
.