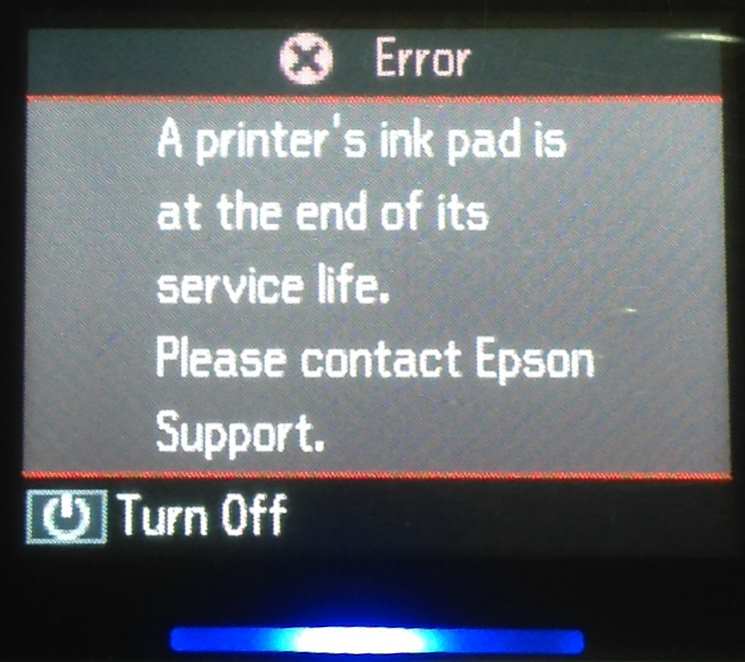 As You know Waste Ink is collected by waste ink pads during the
initial setup
of the product, during
printhead cleaning cycles
and when printing
borderless photographs
.
So, the Waste Ink Counters overflow time depends on these 3 items:
– how many times the printhead cleaning cycles were performed;
– how many times the initial ink charge has been used;
– how much borderless photographs have been printed.
Do You know? During printhead cleaning cycle – about 2-4% of waste ink counter is been used (the waste ink counter increases). So if You make about 25-30 printhead cleanings cycles – You can overflow the waste ink counter!
Tips how to avoid Waste Ink Counters overflow:
– use quality inks to avoid printhead cleanings;
– use printhead cleaning when it is strongly needed;
– Epson offer optional, cost-effective, one or two-year service contracts for our ink jet printers in addition to the standard one-year warranty. While under warranty or service contract, all hardware failures and maintenance messages are covered repairs. With one of these options, you can ensure the continued operation even with heavy use for up to 3 years;
– other option for high volume users is to consider a higher level printer with a more robust duty cycle like the Epson Stylus Pro line of printers with larger ink cartridges and lower costs of use.
So, please follow this tips to make Waste Ink Reset FREE in Epson Service Centers if Your printer is under warranty!
There is NO free Epson resetters in the world. You can find 2 types of software to make Epson printers maintenance:
– WIC Reset Utility (waste ink counters reset and adjustment functions);
– Epson Adjustment Program (for making Epson printers Adjustments only).
You can read full description of the Epson Adjustment Program – for example:
– Epson L120 Adjustment Program;
– Epson L110, L210, L300, L355 Adjustment Program;
– Epson L200 Adjustment Program;
– Epson L1300 Adjustment Program;
– Epson L1800 Adjustment Program.
Full description of WIC Reset Utility with waste ink counter resetter function available – read here.